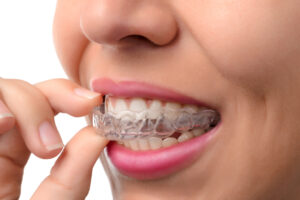 At Advanced Dentistry of Charlotte, we want all our patients to have white, shining smiles. In order to facilitate this, we offer cosmetic dentistry options like teeth whitening, which can brighten your smile by several shades.
But what about crooked teeth? What do you do if, as you grew up, your teeth started shifting into uncomfortable or unseemly angles? Perhaps you often tell your friends that you "should have had braces" but didn't, using a fatalistic tone; as if there's no chance to fix it now.
Well, you're wrong! We can help with Invisalign® clear braces. These dental marvels help you straighten your teeth over time. They are minimally invasive and, best of all, include no metal whatsoever.
So all the aesthetic problems of traditional braces are gone! Clear aligners from Insivalign® are undetectable due to their transparent design, and they shift your smile over a period of months, which prevents the pain and discomfort of forceful, traditional braces.
Advanced Dentistry of Charlotte wants your smile to reflect your inner beauty. Patients from Cotswold, South Park, Myers Park, 28270, 28210, and 28262 also come to us for general dentistry and dental implants. Contact us today!
Contact Advanced Dentistry of Charlotte – Dr. Christopher A. Bowman:
Location (Tap to open in Google Maps):
ArticleID 8282