Cosmetic Dentistry for a Smile Makeover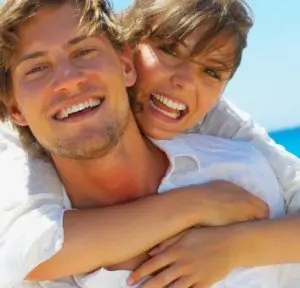 This term smile makeover is used loosely, often as a synonym for cosmetic dental work, or cosmetic dentistry. However, a smile makeover is much more than a cosmetic dental procedure or two that improves some aspect of your smile. For our patients around Charlotte and its communities, we offer a highly customized smile makeover cosmetic dentistry treatment plan, designed to address every aesthetic issue. Although the focus of a smile makeover is cosmetic, it may also include some curative or restorative treatments. Problems such as cavities present both cosmetic and health concerns. Additionally, if gum disease is present it will need to be treated for the longevity of your teeth.
Conservative Smile Design
A full smile makeover is not as extensive or expensive as you might imagine, thanks to today's conservative and versatile cosmetic dental treatment options. Many patients are concerned about the appearance of crooked teeth, but unwilling to wear metal braces. With Six Month Smiles, cosmetic correction can be achieved in less than a year, using braces made of clear and tooth-colored components.

The Importance of Cosmetic Smile Design
One of the most important steps in a smile makeover occurs before treatment ever begins. Just as an architect cannot begin building without blueprints, Dr. Chris Bowman cannot begin creating your winning smile makeover without a cosmetic dental design. This is created using a combination of cosmetic dentistry, scientific smile analysis, and natural artistic talent.
Dr. Bowman will consider such things as facial proportions, skin tone, hair color, symmetry, enamel translucency, and more. To some extent, the definition of a beautiful smile is somewhat universal. For example, the size and spacing of teeth should follow a formula known as the golden rule of proportions, to achieve a natural appearance. This is only a starting point; however because each person has a slightly different vision of an ideal smile. Using the skills and experience in cosmetic dentistry, Charlotte dentist Dr. Chris Bowman will help you establish the plan for an amazing smile. Whether you live near Myers Park or elsewhere around Charlotte, we want to partner with you for all your dental needs!
The Smile Makeover Process
During your smile makeover consultation, cosmetic dentistry doctor, Dr. Bowman, will take the time to learn exactly what it is that you are looking for, and how that goal can best be achieved.
It is helpful to sit down in front of a mirror and spend some time analyzing your own smile prior to your appointment.
Define in your own mind what you like and dislike about your smile, so that you can explain all this information to the doctor and he can partner with you so your cosmetic dental plan is all that you want.
If you have family or friends who live in Charlotte or across the nation, find photos of smiles that you love, be sure to bring them with you.
Smile Makeover in Charlotte
The smile of your dreams is waiting – call 704-337-8070 today and schedule a cosmetic dentistry consultation.