The Amazing Benefits of Porcelain Veneers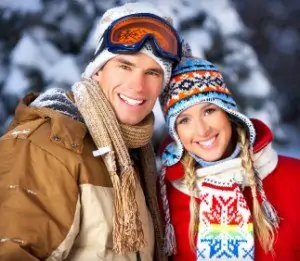 Aesthetic dentistry has come a long way since the old Hollywood celebrities would have all their teeth removed in favor of beautiful, straight and white dentures. Today, porcelain veneers are used to craft gorgeous smiles and cover a variety of concerns. More than a simple cover that is placed on the surface of a tooth or teeth, a dental veneer is very carefully designed to perfectly suit the patient's coloring, facial contours and aesthetic goals.
For patients that are tired of looking in the mirror and seeing teeth that are uneven or crooked, you may be interested in veneers for teeth. If your teeth are misshapen, too long or too short, cracked or chipped, discolored, or you have gaps in between teeth, then exploring the benefits of porcelain veneers is certainly worth your time.


I had veneers on my top twelve and I love them! They look amazing! I can't believe he and the hygienist spent ALL day with me and probably why most don't realize why the cost is the way it is. His poor back! lol Thank you Advanced Dentistry!

You may initially think of the aesthetic results of veneers for teeth, but that is only scratching the surface. With custom-crafted porcelain veneers, you will see:
An enhanced smile in just two visits to our office by having one dental veneer or more placed.
New veneers for teeth through a minimally invasive procedure.
Teeth that look naturally shiny and white with porcelain veneers.
Improvement of specific dental flaws with one dental veneer per tooth to cover those flaws.
An improvement in your self confidence–veneers for teeth may make you want to smile a whole lot more!
Further benefits that aren't initially considered include:
Porcelain veneers are highly stain resistant.
Veneers for teeth are beautiful and fully functional.
A dental veneer can last up to fifteen years.
Each tooth veneer is customized to perfectly fit the smile.
Veneers for teeth are a durable cosmetic solution to imperfections.
Getting porcelain veneers for teeth is a simple process that typically only requires two visits with Charlotte dentist Dr. Chris Bowman. The first step is preparing teeth by removing a bit of the surface enamel, just half a millimeter. This preparation allows the customized dental veneer to lie flush with the gums. After taking an impression of prepared teeth, a mold is sent to the dental lab where the veneers for teeth are created over a period of about ten days. When the porcelain veneers are completed, the patient returns to our office for the fitting process, during which each individual dental veneer is assessed and altered as needed. Once every porcelain dental veneer is perfect, these thin porcelain veneers sheets are adhered to the front of teeth and the patient leaves with a fully enhanced smile.

Explore Your Porcelain Dental Veneer Options in Charlotte!
To discover how porcelain veneers for teeth can improve your smile, contact our office for your cosmetic consultation today!
You May Also Be Interested In